During this time of social distancing, businesses have no choice but to close their doors to the public; however, many of them are still reachable by phone or online.
There are so many creative ways to be supportive of local businesses and small business owners during this time. Here are just a few ideas:
• Utilize take out and curbside to-go services. Check out the chamber's Take-Out page on FB and encourage local eateries to post their status there!
• Buy gift cards (many businesses have gift cards available on their websites) and class-passes (for yoga studios/gyms) to help small-business owners to continue to pay their employees and contractors while they are shut down temporarily.
• Call your hairstylists and ask if you can make a future appointment (because you know it will be hard to get an appointment later!) and prepay for your service with a credit card by phone.
• Purchase your bulk orders now (from a food co-op, for example). See if the business offers curbside pickup or delivery.
• Purchase merchandise from your favorite retailers, breweries, restaurants, etc., like shirts, hats, books, signs, etc. from their websites and have shipped to you.
• Support your local theater by purchasing gift certificates on their website that you can use at a future show.  Some smaller/non-profit theaters and venues may also have a donation link on their website.
Money is tight for everyone, and those who are not able to work remotely may not have the capacity to spend right now, but if we CAN, we SHOULD. It would be an even greater nightmare if we woke up from all of this and found our favorite local businesses were not able to re-open their doors.
Here's a fun, bingo-style graphic we posted on our Facebook page to give some other ideas to support local business right now.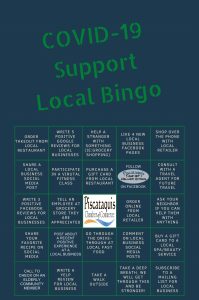 Stay safe and stay local!