Guilford— The Piscataquis Chamber of Commerce is pleased to announce this year's recipient of the Business of the Year award, Herring Brothers Meats of Guilford.
Annually, the chamber reaches out to all communities within the county via social media, email campaigns and other media sources, asking for nominations for Business of the Year. Though any business within the county can be nominated, only chamber members are considered for the final vote. "There are specific criteria we consider when making the final decision," said Denise Buzzelli, Director of the chamber, "we look for a Piscataquis-based business in good standing with the Chamber that shows a commitment to growth as a company, one that supports its employees and cares deeply about the communities it serves".
As for this year's winner, Buzzelli said, "Sometimes individuals and companies give in very visible ways; other times, they do so quietly and behind the scenes, seeking no accolades, no other benefit or return apart from knowing the community is better and stronger for it – this is their joy and reward." Herring Brothers Meats, says Buzzelli, is one of those companies.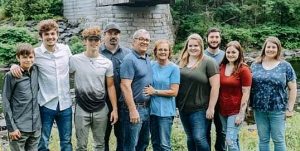 The Herring family name is one that has been known and respected in the town of Guilford for over 200 years, and Herring Brothers Meats, now operated by 3rd and 4th generation family members Tom and Andrea (Herring) Gilbert and their son Trey, has been a staple in the community since 1920. Guilford town manager Johanna Turner explained that Guilford is rich in family-owned, multi-generational businesses deeply rooted in Guilford, cornerstones of the town. "Herring Brothers is one of those businesses," she said, "In addition to being a tremendous support to our community, they have expanded over the years and diversified their customer base and offerings in response to changing times, and have made other investments which exemplify their commitment to the area and their intention to remain solidly in place for years to come." One such investment is a recent upgrade to three-phase power, an important but costly upgrade. "Guilford is so fortunate to have this gem located in our town," she said.
SAD#4 athletic director Joe Gallant was thrilled to hear the Business of the Year announcement, explaining, "Herring Brothers is certainly worthy of such a wonderful award; to date, they have graciously supported SAD#4 by providing soccer backstop nets, meat for PCHS Boosters, and the funding of eSports for 2020, valued at $10,000., which helped establish this pilot program." He added, "This week, new lights for the soccer field and track were purchased and are being installed – all paid for by Herring Brothers at a cost of $60,000."
Former town manager and life-long Guilford resident Tom Goulette shared Turner's sentiments; "First, this recognition is long overdue," he said, "Herring Brothers does a lot for the town and school, much of it unrecognized; when I asked if they would run a pig-scramble for the Piscataquis River Festival, the largest annual crowd-draw to Guilford, they immediately said yes and have done it multiple times since, at a cost of about $3,000 each time." He added, "As one of the larger employers in town, they certainly support the local economy in many other ways."
John Shea, executive director of the Piscataquis County Economic Development Council, recently took a tour of the facility and said, "Herring Brothers provides a vital and unique service to farmers in the area through their meat processing operations.  They also support dozens of high-quality jobs and are active in workforce development and training efforts, in addition to being heavily engaged in the community."
Sherry (Herring) French, former Chamber President and cousin to Andrea Gilbert, was ecstatic when she heard about the award. "Tom and Andrea have brought the business to a whole new level of success; they are the quiet roar in the back of the room, providing employment to many local people and making a difference in the community in so many ways," she said, "Congratulations on all your successes and for the recognition you are receiving today; you make our fathers, the original Herring brothers, Malcolm and Lorin, proud."
Herring Brothers Meats is located on Water Street in Guilford, Maine, where they operate a USDA inspected meat slaughterhouse, smokehouse and processing plant, in addition to a retail meat market offering a wide variety of meat products, and their famous WICKED GOOD BEEF JERKY.  Buzzelli described a 'letter to the editor' she remembered reading in 2015, printed in the Piscataquis Observer, "The man's name was SSgt Scott Travers, and he was with the US Airforce and grew up in Cambridge, ME. He was on deployment, and Herring Brothers sent a generous donation of beef jerky to airmen on deployment with him. He explained how this act of kindness invigorated the men and increased their morale, and how every bag of Jerky sent smiles across their faces. This is the kind of company we want to celebrate. Truly good people, making the world better," she said.
The 2021 Business of the Year Award was presented on-site at Herring Brothers Meats on October 8th during a private ceremony at the recipients' request.