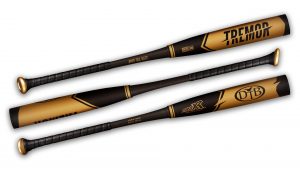 SHIRLEY, ME – Dove Tail Bat Company, a Maine-based manufacturer of baseball bats, has been recognized for manufacturing one of ten top new products by Collegiate Baseball. The world's first metal bats with ProXR technology, manufactured by Dove Tail Bat, received a Best of Show award. Now in its 23rd year, the awards are voted on by a panel of judges from Collegiate Baseball newspaper. Out of 55 entries, the panel determined the top 10 entries, all of which received Best of Show awards during the recent American Baseball Coaches Association (ABCA) Convention in Chicago.
"We are incredibly proud of the work that has been put into the Tremor and Polar Power Bats, and the results being seen by those who are using them," said Paul Lancisi, CEO of Dove Tail Bat Company. "Baseball players using our bats from youth and school leagues up through the pros are seeing a difference in their exit velocity, their comfort and their confidence. Through our partnership with ProXR, we're approaching bat designs in a data-driven and unique way. The results speak for themselves. Our entire company is honored to receive the Best of Show award from Collegiate Baseball and the panel of judges."
The ProXR ergonomic knob increases the batters leverage and control through proper biomechanics and improved grip engagement. Last year, Dove Tail Bat announced an exclusive agreement with ProXR to produce the world's first metal bat using ProXR's ergonomic design.
Dove Tail launched two new metal bat models in 2021: the BBCOR-certified Tremor, and the USSSA-certified Polar Power, inspired by Dove Tail's success with two-time Home Run Derby champion Pete Alonso. Both models were introduced at the 2022 ABCA Convention and were recognized as Best of Show.
"Every one of our players who have made the conversion to the ProXR knob did so with astounding results, including Pete Alonso," said Lancisi. "The opportunity to use the ProXR knob technology is a great opportunity for Dove Tail to grow our business success beyond wooden bats into the metal bat market. This is where all youth, high school and collegiate players swing metal bats and with our new bats, they're already seeing improvements in performance at the plate."
Prior to the Polar Power Bat, there was no metal bat available to college baseball players that used the ProXR knob and met all NCAA in-season certifications and compliance. The two-piece Dove Tail metal bat with ProXR retails for about $300, and the one-piece United States Special Sports Association (USSSA) approved bat retails for about $200. Both bats, along with the complete line from Dove Tail, are available at DoveTailBat.com.
ProXR LLC is a privately held, St. Louis-based company, founded in 2014. ProXR develops and markets performance grip technology for baseball and other sports including pickleball, hockey (TORCH™ hockey knob), golf, field hockey and lacrosse.
About Dove Tail Bat Company
Based in Shirley, ME, Dove Tail Bat Company was born out of Dovetail Cabinetry and Designed Living. The owner's youngest son was playing baseball in high school and college, and would complain about the quality of the bats. Using Maine wood and Maine know-how, Dove Tail Bat Company came into existence as a result.
After making bats for their son and his teammates in high school and college, Dove Tail Bat Company started selling bats to men's leagues around the country and eventually to professional baseball players. In 2017, Dove Tail Bat produced about 30,000 bats, and saw three bats entered into the Baseball Hall of Fame.
More information about the company can be found at dovetailbat.com
Submitted by:
Dan Cashman, Sutherland Weston
dan@sutherlandweston.com
207.945.9999
207.837.4821 (cell)