Bob Ade honored at the Chamber's annual meeting on October 13th.
The Piscataquis Chamber of Commerce is pleased to announce this year's recipient of the Business of the Year award is Pat's Pizza of Dover-Foxcroft AND Milo.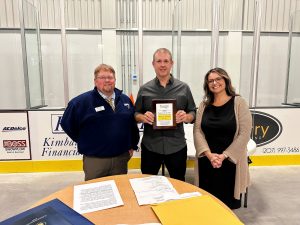 Annually, the chamber reaches out to all communities within the county via social media, email campaigns, and other media sources, asking for nominations for Business of the Year. Though any business within the county can be nominated, only chamber members are considered for the final vote. "There are specific criteria we consider when making the final decision," said Denise Buzzelli, Director of the chamber, "we look for a Piscataquis-based business in good standing with the Chamber that shows a commitment to growth as a company, one that supports its employees and cares deeply about the communities it serves".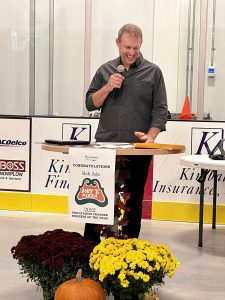 Bob Ade is known in both the Milo and Dover-Foxcroft communities as someone who "does what he sets out to do",  but never makes a move unless it will benefit the community. Buzzelli said, "Bob is brilliant at navigating the direction of his businesses, knowing how to grow them (or start them) based on needs in the community – he's always thinking; 'What would make the downtown look better?', 'What might the local kids enjoy?', or 'How can I invest in a way that will be meaningful to others?'; anyone paying attention will recognize he's not just out to make a profit, he genuinely cares," she said. One small example of this is his recent decision to offer a full breakfast menu to better serve the Milo community after Elaine's Bakery decided to stop serving breakfast. "He sees the need and pivots, improving his business offerings and the quality of life for the residents while keeping those options available for visitors to the area," said Buzzelli. "Recently," she added, "he remodeled the second floor of the Dover-Foxcroft location to include a second bar with a unique design and a cool vibe, opening up his customer base, and has expanded his catering services, which are desperately needed in this area," she said.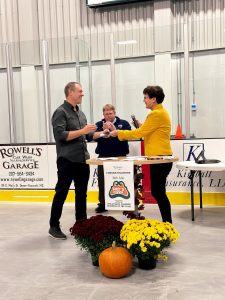 Since Bob Ade took over Pat's in Milo in 2010 and opened the Dover-Foxcroft location two years later, both locations have held hundreds of fundraisers giving back at least 10% of their profits to local charities, families experiencing loss or trauma, school sports, and more. "Bob gives of his money and his time," one employee said, "from donated pizza to gift certificates to discount cards to new uniforms for the REC department, and even free use of space at his Pat's locations for middle and high school sports teams and his staff," she said.
Bob, married for 20 years to his lovely wife Alyson, is running three businesses with a fourth about to open while raising five children ranging from age ten to age nineteen. He is busier than most, but his employees still feel prioritized and appreciated. "Bob is the best boss," said a Milo employee, "with everything he has going on, he always has time for staff, he always helps when we need him, he always wants to make a difference and give to a good cause," she said.
Bob Ade was presented with the Piscataquis Chamber Business of the Year Award by board president Matthew Spooner and Executive Director Denise Buzzelli, and honored by legislative sentiment presented by Senator Paul Davis at the 2022 Annual  Dinner and Business of the Year Celebration, held at the Piscataquis County Ice Arena on October 13th .