2021 Covid-19 Grant Prep Packet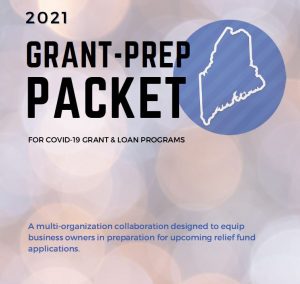 The Piscataquis Chamber of Commerce has partnered with PCEDC, MaineStream Finance, the Katahdin Region Chamber, and Destination Moosehead Lake to create a packet with all information needed to navigate the Covid-19 relief resources as they become available, from eligibility, to document preparation, to application, to funding.
To view the packet, click HERE.
To watch the 2/4/21 ZOOM meeting, 'Navigating 2021 Covid19 Loans, Grants, & Resources', click HERE.
To Watch the 4/15/21 Zoom meeting, "Business Relief Program Updates", click HERE.
To watch the 4/22/21 Zoom Meeting on Succession Planning, click HERE.
To watch the chamber's conversation with the SBA on the Restaurant Revitalization Fund, click HERE.
For more information, email the director HERE or call 207 564 7533.