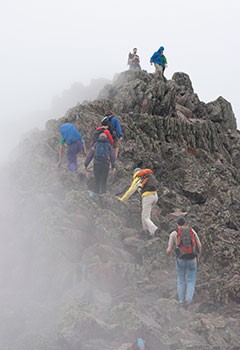 One of the best things about being such a large county is all the miles of great hiking trails winding through the land. The serious hiker will enjoy traveling to Brownville to conquer Gulf Hagas, a series of spectacular gorges and waterfalls known as the "Grand Canyon" of Maine.
The world-famous Appalachian Trail passes through Monson, offering day hikers an opportunity to park along the trailhead to hike this famous trail.
The hike through the Borestone Mountain Sanctuary takes only a few hours and rewards those who reach the top with panoramic vistas of Onawa Trestle, Sebec Lake and more. Birdwatchers will love the abundance of feathered friends along the way; everyone will love the view.
For a less challenging stroll, try the Guilford Memorial river walk, which winds along the banks of the Piscataquis River. Our historical downtowns are also renowned as lovely walking destinations, with quaint shops and Victorian homes lining the maple-shaded streets.
Piscataquis County's newest challenge for the hiker is the Moosehead Pinnacle Pursuit™offering panoramic views from each corner of the Moosehead Lake region. Finish all 6 hikes and become a registered member of the Moosehead Pinnacle Pursuit. The mountains of this exciting challenge are Mount Kineo, Number Four, Whitecap, Eagle Rock, Big Moose, and Borestone. For more information, please visit mooseheadpinnaclepursuit.com.